Eclectica Interio modernizes apartment houses in Hyderabad. Micro-lifestyle life has captivated the minds of thousands of generations, making it possible to live bigger while living in small spaces with creative solutions. Increase the space to make your apartment spacious and welcoming. Here, we have some clever solutions suitable for small living space in apartments.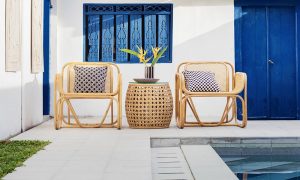 Keep it neutral
Trick your eye into thinking the apartment is more spacious by adding calm, toned colors. A heart-like color like turquoise is good for creating a happy mood in a small room. Be sure to add a variety of textures to make the apartment interesting.
Resources
When space is limited, limit the purchase of new, bulky furniture such as armchairs and dressers, which take up a lot of floor space. Buy some large-scale furniture pieces to make the interiors look great. Do not place all your furniture against the walls because the space behind the furniture will look wider than the room. Have resources by using all surface space such as windows for decor, lighting and other essentials when there is no space for an extra table.
Choose openness
Separate the rooms through pocket doors with glass windows, which allow light to flow throughout the space. Even better, they slip into the wall when not in use, taking up much less space than slamming doors.
Use the space on the walls
The mirrors on the walls make your space feel bigger, lighter and more unrealistic. And a convex mirror to add a lot of personality to the interior. Media Console Mount your TV on the wall as the largest space waste in a small room. Store open and closed shelving and furniture units from the floor and up to the walls to remove bookshelves. Or another option is to choose a mounted wall desk that takes up less room – and you can even mount shelves on top of it for more storage space.
Multipurpose furniture
Opt for multi-purpose furniture. Find a table that can be used as a desk and dining table, get a deep sofa that doubles as a guest bed, or buy cubes that serve as a coffee table and bonus seats when guests are done. Fold and buy extra seating that is not exaggerated so you can keep it away when guests are not around.