Gone are the days when your grandma picked wood boards for your kitchen layout;Modernization came.Kitchens speak to another, never-ending memory and produce delicious flavors that urge you to eat. There is just a single kitchen that suits you best.
How about we discover some kitchen layouts which will inspire you to create your own brand new kitchen?
Lets explore!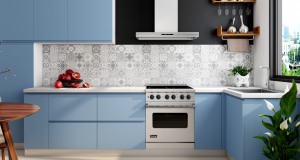 1. Looking for a place beyond Mars?
If the answer is yes, you will prefer the L-shaped Modular kitchen layout.
With the L shape, you remove all the nonsense to maximize your space. Additionally, your cabinets are above and below you, making it easy to grab what you want anytime from the next.
Top tip: Add more depth and size by installing lights under your workspace. It works wonders to bring that 'extra bling' to your kitchen.
2. Do you have a large family or guests to entertain?
Then, U shape kitchen is a good fit for you.U shaped kitchen layout is the best choice for the larger homes kitchen, to facilitate access of your guests and family members while you are preparing or cooking meals.
Introducing an island where everyone can officially stay together makes you feel like a family member. This is the perfect place to add non-traditional storage space.
This kitchen layout usually consists of high-ceiling cabinets with tall units and overhead cabinets. The design is often considered to be the most efficient kitchen floor plan because of its tight working triangle and the separation of the work area from the rest of the family.
3. Looking for more space with streamlining the cooking area?
If so, the G-shaped gong ring is inviting you!
The G shape layout has all the advantages of the U shape, but with another wall. You can also toss in some colorful heavy tiles that add a touch of affordable elegance.
Additionally, it does not leave your peninsula or island and allows you to choose the destination of your entry route. This style of kitchen is specifically helpful at surrounding the chef of the home kitchen with a variety of close counter-top space options and immediate access to supplies.
4. Do you see the simplest?
If you tremble as you read this title, the galley layout will scream your name.
While galley is declining from fashion, this style offers the comfort of having everything you want on one side of the kitchen. It allows you to make the most of small spaces.
Install strip lighting under your cabinets to illuminate dark areas. Open shelving allows you to choose what you want with one glance.
All these features work together to create an elegant and smooth minimalist style. You will also get the luxuries of a comfortable walking area, which will help keep clutter and traffic away from your busy workstations.
5. Do you need a kitchen island?
The peninsula will definitely move you. You can trust us when we say; You certainly will not settle.
The peninsular layout is an island connected to your kitchen. You get the benefits of a U-shaped kitchen without a wall. This design is also perfect if you want to experience the island, but you can't build one in the middle of the room.
Also, if you are in rustic tremors, think about creating a peninsula with dark wood. It looks awesome in cottage-style kitchens!
6. What about back-to-back kitchen islands?
Do you like kitchen workspace, people and all counters? Well, then Two Island Style is your best friend.
Be sure to assign different functions to your islands. For example, one for cooking, the other for homework. This will help you to better plan the type of appliances you have introduced for your kitchen.
Be sure to create space on one or both sides. Add bar benches, flowers, plates and vola, you have an instant dining table! The possibilities are endless; It really fulfills the dream of any multi-tasker.
7. Narrow Space?
Then the wall is your best bet. Originally called the Pullman Kitchen, all the appliances and cabinets are literally on one side.
All your electrical appliances can go there as long as they have outlets installed. Toss your bin in one of the cabinets; Eliminates the use of stand-up trash cans.
Hidden technology creates a comfortable place for you to hide your pots and pans. These days even better, similar styles come with an island that allows you the freedom of a walk-in aisle and a place to eat your one-pot chowder.
8. Do you feel uncertain?
Try any combination in horseradish kitchens. The addition of an island gives you everything you need to transform your kitchen into any layout. Additionally, you can dig a traditional triangle in favor of new work zones.
For further help with identifying what suits you the best, try using Kitchen Designer to help you bring your dream kitchen to life!